Pilot project: Automatic passenger counting (APC) for DB Regio
Modernization of Euregiobahn railcars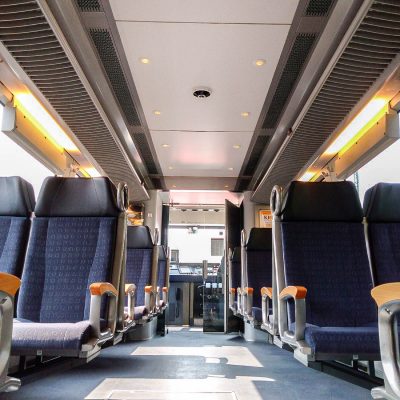 Turn old into new!
True to the motto "Make new from old". DB Regio has completely modernized the old RB20 Euregiobahn railcars both inside and out.
Among other things, the cars have received a new coat of paint and decals on the outside, as well as a new interior.
The interior fittings include new seats, new monitors, USB charging stations and a modern video system ViSenSys GmbH .
Automatic passenger counting (APC) from ViSenSys GmbH
The video cameras help both for security monitoring, to give passengers more security, and as an automatic passenger counting (APC), in which the entries and exits are documented.
"With this, we don't want to monitor passengers, but for once we want to be able to give reliable information about the number of passengers in the vehicles. This is a pilot project. At some point, we may also be able to communicate to the passenger in which part of the train a seat is still available."
Quote Franz Welfens
We are very pleased to have been able to contribute to the modernization and digitization of DB Regio's 22 new trains. We would also like to thank DB Regio for their cooperation and look forward to further exciting projects.